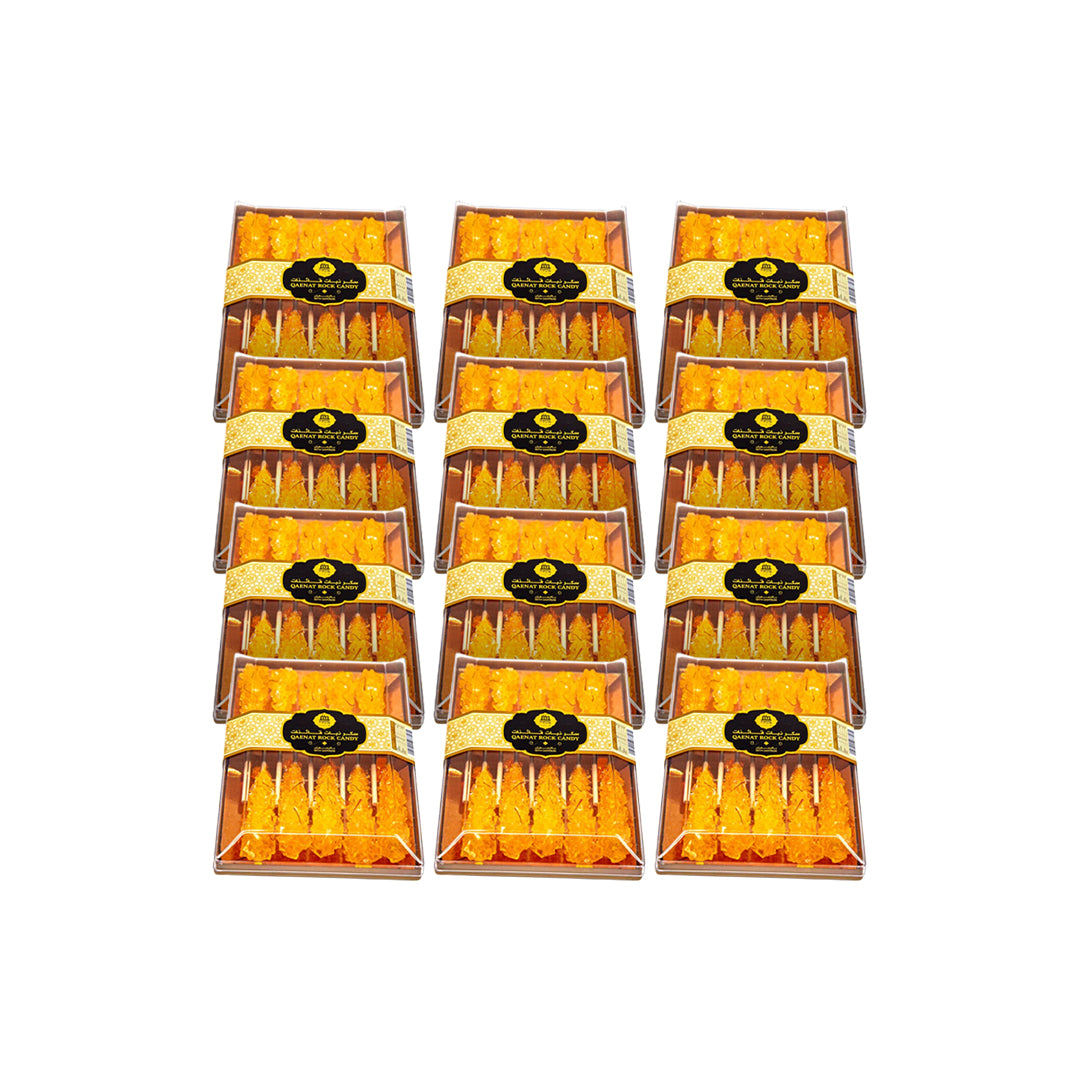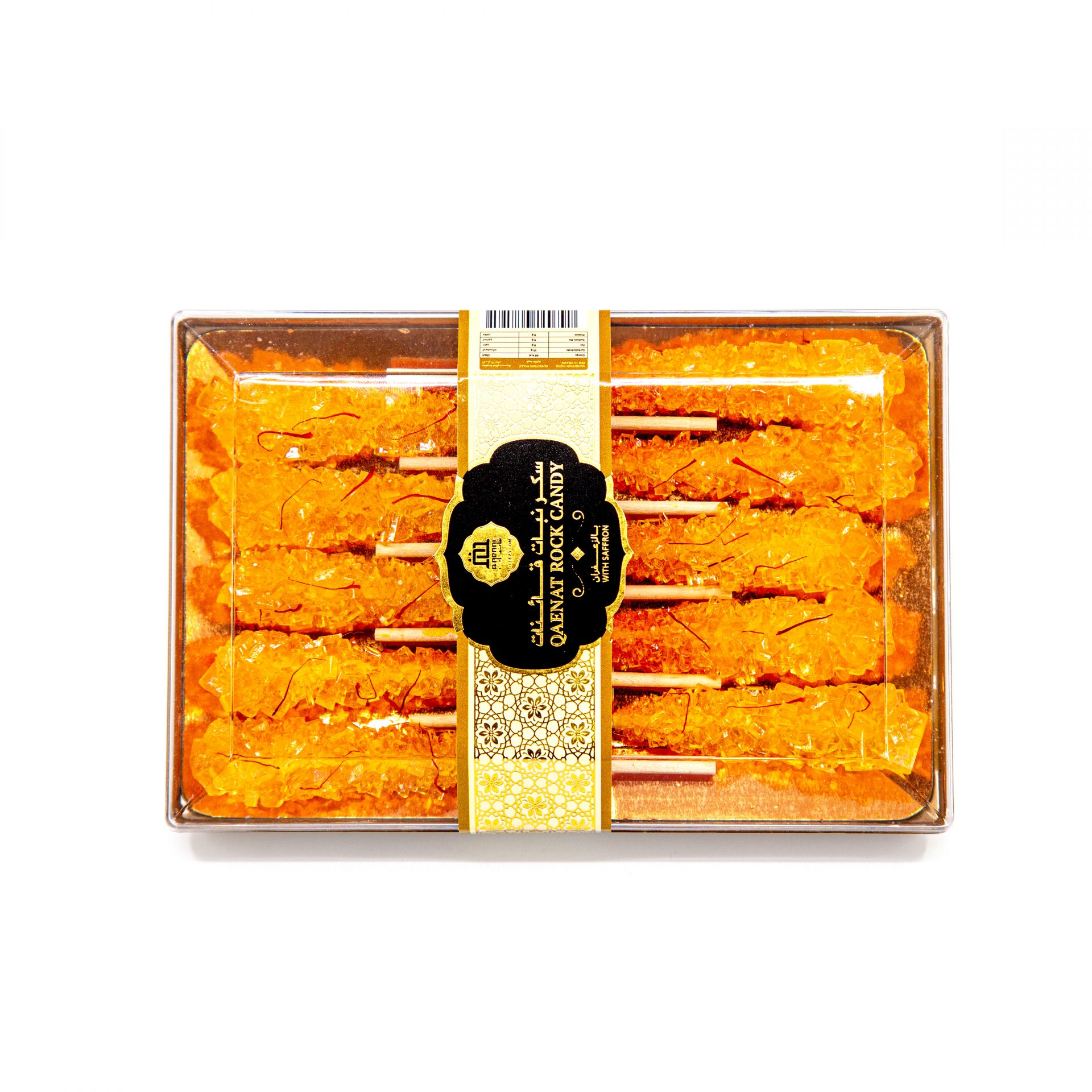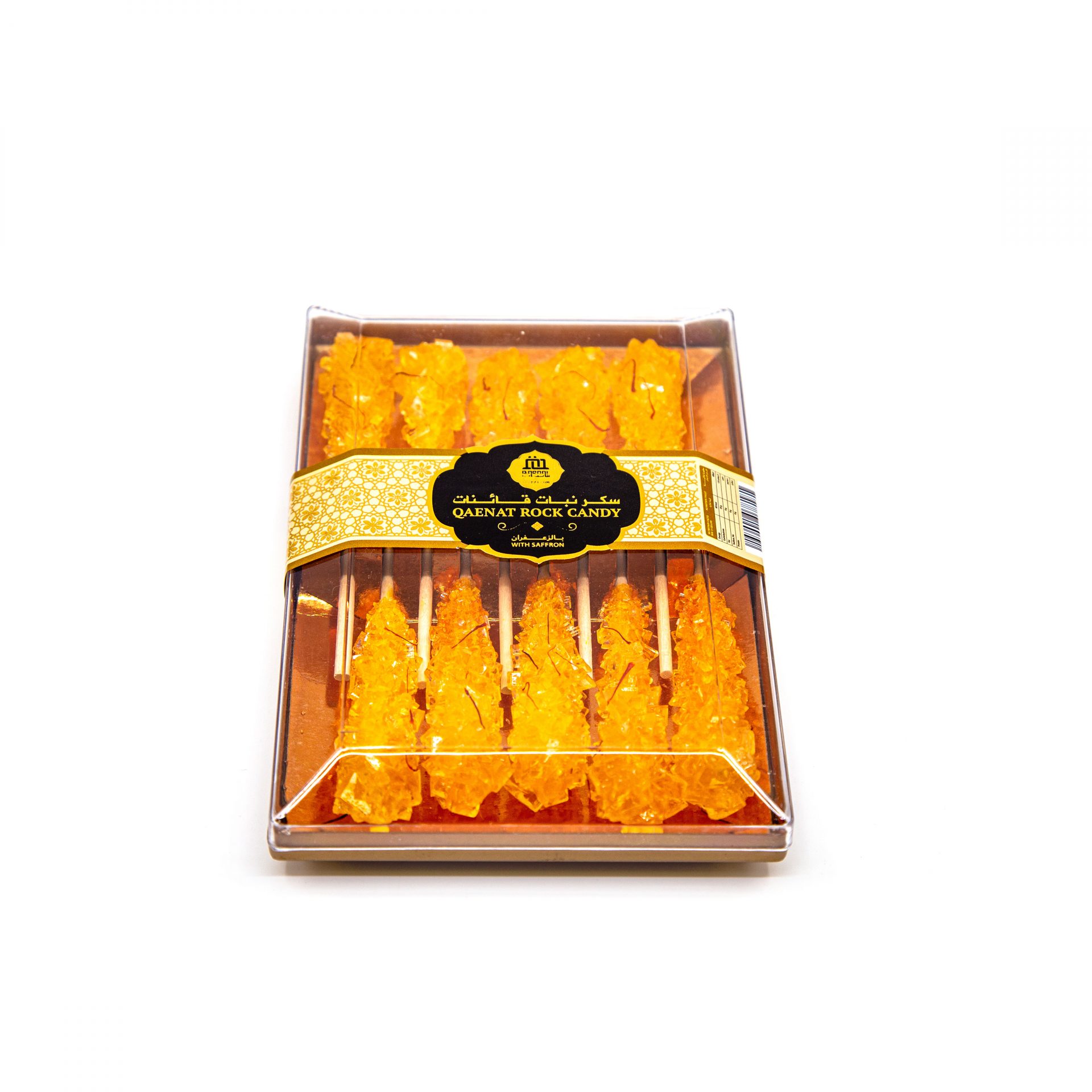 Rock Candy Saffron (150G)- Pack of 12 Pcs
Origin: Iran.

Pack of 12 PCs

Luxury Rock candy Sugar with pure and natural saffron threads.

Packed in a Clear Amazing box.

Quick dissolving in hot drinks.

Free from additives and preservatives.

It's produced from highly purified sugar, high-quality saffron, and an anti-bacterial stick.
BUY Rock Candy Saffron (150G)- Pack of 12 Pcs + 10% OFF 
Qaenat is proud to provide Rock Candy Saffron directly from Iran, enjoy the pleasant aroma and delicious taste.

Our
Rock Candy Sugar
is produced from High purified sugar which is crystallized in a complex process for several days on antibacterial wooden sticks to obtain the individual shape.
Afterwards it is decorated with Royal Pure saffron threads and carefully packed.
The Rock candy Saffron Known since ancient times in India & Asia, nowadays, it is often used in coffee, milk, water and other hot drinks that may need a little sugar. This Rock Candy comes with saffron threads and has all the benefits of saffron besides the benefits of Rock candy it is ideal for soothing the stomach, reducing coughing, & aiding sleep. adding Saffron enhances the color and makes it more refreshing and does not contain any additives, so it dissolves quickly in hot drinks.

6 Reasons why you should choose Rock Candy Saffron:
Helps boost hemoglobin levels.

Helps relieve cough and throat pain.

Prevents bad breath.

Natural laxative, and prevent constipation.

Boost energy.

improve memory and mental health
Qaenat Certification:
HACCP Certificate.

Quality Management System ISO 9001: 2015

Environment Management System ISO 14001: 2015

Health & safety management system ISO 45001: 2018

Dubai central laboratory food and safety

 
About Qaenat:
Qaenat is a brand specialized in supplying high quality Natural Products, the company headquarters is in Dubai - United Arab Emirates. Qaenat Natural products include:
Luxury Royal saffron

Super Negin saffron

Rock candy saffron

saffron syrup Saffron

sugar cube
2. Cardamom products :
Qaenat provides the best types of Cardamom, of Indian origin.

3. Qaenat Honey :
Qaenat Provides various of pure & natural honey types, including:
Premium Sidr Honey.

Royal Samar Honey.

Wild Mountain Honey.

White Honey.
4. Qaenat Containers & Grinders :
We are glad to provide a variety of acrylic & tin box containers, suitable for gifts, spices & chocolate storage.
Qaenat Grinders can be used to grind saffron, We provide different types & shapes.